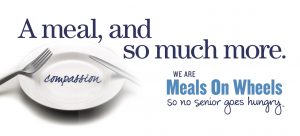 Deliver Meals
You can help Erie's home bound and at-risk elderly by volunteering to deliver meals once a week, once a month, or once in a while.
Shop and Deliver Groceries
Our grocery shoppers deliver about once a week, a couple of times a month, or more depending on their schedule and how many clients they shop for. We try, if possible,  to match you up with clients closest to your nearest Giant Eagle store or Sander's Market.
For more detailed information on volunteering for Meals On Wheels Erie please click here: Volunteer FAQ's page.
Call (814) 452-6930 between 8AM and 4PM or use this handy form to let us know your interest!
Volunteers Role
Your role is critical to the health and welfare of appreciative home bound seniors and adults with disabilities. A smile and a few kind words are sometimes as nourishing as the meal itself. With your help, our seniors can stay where they are most comfortable – in their own homes.
You will make a difference either delivering meals or shopping and delivering groceries.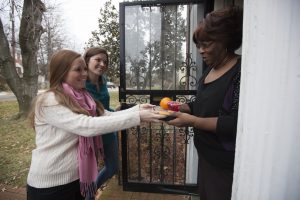 It is important to me to put a face to the program, and see all that is accomplished through the funds I oversee and account for.
Having spent 36 years in homes installing phones, I have seen how much people in the area need this service. It doesn't matter what you have or have had there comes a time when a little help is needed. So giving back to the community seems like they thing to do.
To give back to the community!! To see the smiles & converse with the clients.