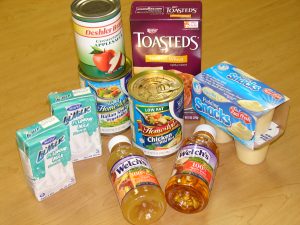 In mid-January, each of our clients receives a bag of shelf-stable food in case of emergency.
While Meals On Wheels Erie has experienced only a handful of times when we could not deliver food over the past 50+ years, we think it's critical that our clients have food on-hand they can use in the rare case of our being unable to deliver food.
We are able to provide these bags with the help of the Second Harvest Food Bank right here in Erie. We are grateful for our collaboration with this local non-profit agency. Some of the food is donated so contents may vary and they are all bagged by SHFB volunteers.
The picture shows the contents of a past Blizzard Bag which may vary slightly from year to year.